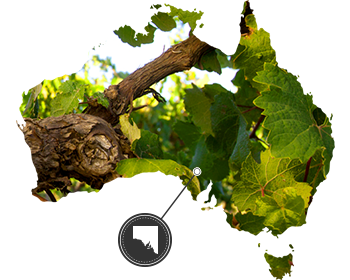 South Australia
Home to the oldest vines in the country, and no less than 18 wine growing regions, South Australia accounts for almost 50% of Australia's wine production. The Barossa Valley, McLaren Vale, Langhorne Creek and Coonawarra are well known for their world class reds, with Adelaide Hills, Clare Valley and Eden Valley praised for their exceptional Chardonnay and Riesling.
Shiraz (90%), Cabernet Sauvignon (10%)
Regions: Barossa Valley (including Kalimna Vineyard), McLaren Vale.
Growing season and vintage were both marked by cool weather. Crops in most South Australian regions were reduced by hailstorms in October 1986.
Aged in new American oak hogsheads for 18 months.
Key to the success of Penfolds has been a lineage of visionary winemakers. There have only ever been four Chief Winemakers at the helm of Penfolds – Max Schubert, Don Ditter, John Duval and Peter Gago, each a custodian of a rich winemaking tradition that goes back for more than 170 years.
Our current Penfolds winemaking team has more than 100 years between them as Penfolds winemakers. They are constantly refining and improving their work, whilst honouring the winemaking techniques of their predecessors.